'Tis The Season
Presented by Sonoran Bells
Please join us for our 2017 Holiday Concert series. A freewill donation will be accepted ($10 suggested per person). A printable flyer is available… scroll down.
Sunday, December 10th, 2017
3:30pm
Vista de la Montana United Methodist Church
3001 E. Miravista Ln.
Tucson, AZ 85739


……………….

Tuesday, December 12th, 2017
7:30pm
St. Mark's Presbyterian Church
3809 E. 3rd St.
Tucson, AZ 85716

Friday, December 15th, 2017
7:30pm
Mount Zion Lutheran Church
4502 W. Ajo Way
Tucson, AZ 85746

……………….

Sunday, December 17th, 2017
3:30pm
St. Alban's Episcopal Church
3738 N. Old Sabino Canyon Rd.
Tucson, AZ 85750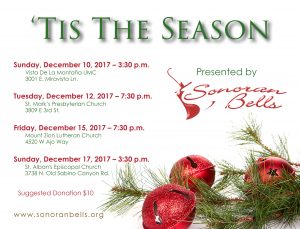 ---
Spring Concerts
Are you already thinking ahead? Mark your calendars now! As more information about venues becomes available, it will be posted here.
Sunday, April 15th, 2018
3:30pm


……………….

Tuesday, April 17th, 2018
7:30pm

Sunday, April 22nd, 2018
3:30pm